This Week on Straight to the Bar
I'm constantly amazed at just how much my training is influenced by the people on this site. Whether you're looking for a new piece of equipment, an unusual exercise variation or just an idea of how others approach things, you'll enjoy these :
Over to you. I'd love to hear what you think : leave your comments on the above articles, and share them with your friends/colleagues/clients and so on.
NB : If you'd like to submit your own piece for Straight to the Bar, here's how.
Video : Jim Wendler - Beginner Deadlift Training
You're never too young to start.
Gymchat 187 - Bodyweight and Suspension Training (with Pierre Johnson)
I love a dose of Bodyweight Training
- when travelling, in the early mornings, and when I'm simply looking for something a little different. Needless to say, you've always got the necessary equipment with you.
In this week's Gymchat we'll be exploring this style of training, as well as some of the 'optional extras' commonly used; particularly suspension trainers. Helping us do just that is none other than Pierre Johnson, together with Personal Trainer Kirk Fontaine.
To give you an idea of the areas we'll be covering, here's a bit of video from one of Pierre's recent workouts :
Nice one.
---
To take part in the Gymchat, just swing by (details below) and fire in a question or three. Note that only the first 8 people will be able to share video, so get there a little early.
See you there.
Details -
Who Pierre Johnson
Topic : Bodyweight Training
When : Wed Oct 10, 9pm EST (here's how to find out when that is in your timezone)
How : Google+ Hangout. Follow either Kirk or Scott for details on the live feed.
See you there.



Quick update on the scheduling of the Gymchats
: Last week we asked what time everyone thought we should hold these discussions, and it's clear that there are several different lines of thought. Early mornings, after work, on the weekends.
As the answers are still coming in (on the blog, Twitter and Google+), we'll be sticking to the regular schedule for another week. And for future discussions, well, I'd love to hear your thoughts on the ideal time. When are you typically free to talk about the world of strength-training?



Tip of the Week : Finding a Personal Trainer
Each week we publish a number of tips and techniques via twitter, Google+, the forums, the blog; and now the newsletter. Wherever you are, there's always a way to improve what you're doing.
---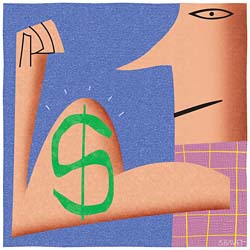 When it comes to getting a fitness professional who's going to help you clarify and reach your goals, finding one is half the battle. Offering a couple of suggestions in that area is
Total Transformation's John Kaiser
, who's had more than a little experience himself.
Nice one. Over to John.


From the article Eliminating the Lug Nuts: How to Find a Good Trainer, a few thoughts :
Get the Digits. Step one, ask your trainer for references that you can contact. Step two, contact those references. It is amazing how many people miss step two--apparently asking for references only as a bluff. When you call the list of references, ask about their results. Where did they start and how far has he taken them? Did their hard work combined with his training know-how pay off? Has he been reliable and professional?

Good trainers get results; lug nuts only get your money.

One Size Fits All. Is the nutrition/training sheet your trainer gives you just a black and white copy--the same one he hands out to all his clients? Or does she/he give you a personalized workout and nutrition plan? You are paying for a personalized approach, so make sure you get it!

Good Trainers Personalize, Bad Trainers Xerox

Can't we All Just get Along? There is nothing worse than putting down several hundred dollars on a personal trainer only to find that the two of you can't get along. So pay for a few individual sessions (even if it costs a bit more). This will give you an opportunity to get to know the trainer, see how he runs his shop, and strike up a rapport. You aren't auditioning him/her for the role of best friend, but you should expect a certain level of professionalism.

A good trainer is always professional
Good stuff.



Checking Out : Trampoline Handbook [Kindle Edition]
This looks great.
The Trampoline Handbook is Chuck Keeney's 1945 classic, updated slightly and converted to a Kindle-friendly format (cheers Logan). Definitely my sort of thing.


As you've no doubt guessed from the name, it covers - in great detail - various trampolining and gymnastic skills. From the Amazon page :
The trampoline is an integral tool in building your acrobatic abilities whether to assist in gymnastics, for competition, or just to learn how to flip and twist for yourself. Many people have used a trampoline at some point in their lives. But how many use it for more then just a little fun.

Years ago I made the mistake of neglecting to practice on a trampoline when I was trying to improve my tumbling skills. I figured I only wanted to be able to do skills without any artificial aid. What I didn't realize was how the trampoline would help me to control my body better when I was in the air.

Even if you don't aim to do full twisting flips and the like you can just learn a few intermediate skills on the trampoline like forward and back flips. Moves that anyone can learn.
Fantastic. Oh, and for the next couple of days, it's absolutely free.


Quick update on the StrongerGrip Modular Grip System (MGS) we mentioned recently - absolutely fantastic.
If you haven't seen it yet, check out the video. Warning : you will want one.