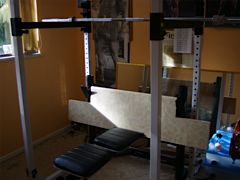 The indoor home gym gets plenty of use at this time of year - especially with the rapid onset of winter here. The old familiars definitely come out to play.
One of these is the overhead press, in its many forms. As there isn't much in the way of headroom (just enough to squeeze in chin-ups, but muscle-ups on the same bar are out of the question) I perform the overhead stuff seated on the bench; usually within the rack.
With any press work like this, the lower back takes a lot of the strain and there's a definite tendency to lean back. To reduce the back work a little and shift the emphasis to the shoulders and upper arms, I use a piece of old kitchen bench-top as a back support. This is heavy, stable and does the job extremely well.
Perhaps not the most complicated piece of DIY gym equipment I use, but certainly one that gets a lot of attention. Now on to the fun part - building up a bit of decent shoulder strength.