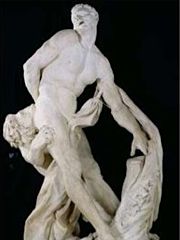 Sculpture by Pierre Puget.
Milo of Croton (once a Greek colony, now part of southern Italy) was a mythical wrestler [1]; although probably based on a real man. His legendary feats of strength include the following :
Holding out his hand and asking spectators to bend his little finger
Placing a pomegranate in his hand and asking spectators to remove it
Standing on a greased metal disc and asking spectators to push him off it
and the most famous
Training each day between Olympic games with a live calf on his back. By the time of the games, he was lifting a 4 year old animal several times each day.
References
1. Milo of Croton
Wikipedia