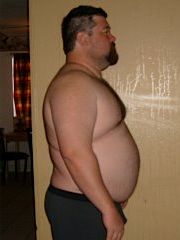 Christine Petty and Royce Mills are out to prove that strength does not have to equate to size. In what's been dubbed 'The Great Pudge Off '07', both are out to rid themselves of some excess baggage in fairly quick time.
The penalty for coming second? In a move reminiscent of Dan John's infamous Alpo goal-setting technique, the runner-up (I'm reluctant to use the word 'loser' here, as they both stand to gain great things) will suffer the indignity of posing in a blonde wig and skirt. Ahem.
Whilst I think I'll survive not seeing the wig/skirt photo, I'm curious as to the change in strength and strength-endurance both will see. Should be good.