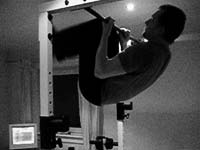 Another Friday workout saw another mixed bag. Following a few sets of standing L-flyes, I jumped in to a combination of lat and grip work.
Standing L-flye 3×7@6.5kg
The muscle soreness that resulted from Wednesday's chin-ups had all but disappeared; and this led to a healthy (but quick) dose of lat work :
Gorilla chin-up 10@bw
Chin-up/Barbell pullover (supersetted) 2×10@ bw/20kg
The grip session included a bit of plate pinching, bar hanging and single-handed deadlifting (using the barbell). Following the deadlifting I decided to try out the Jefferson lift, which is essentially a deadlift whilst straddling the bar. Unusual to say the least. No doubt I'll devote a bit more time to it in the future.
Plate pinch 2×10kg, each hand, untimed
Bar hang - on squared edge of rack, untimed
Jefferson lift - worked up to a comfortable 90kg, will establish max in future workouts