In the early 1480s Richard III incorporated the College of Arms, to oversee the granting and use of Arms. In the 1500s the regulations were much tightened: a property requirement of land worth 」100 per annum, or property of 」300 per annum was introduced and control over the use of arms was tightened. From 1530 the King of Arms made Visitations of the country to examine claims. After considering the evidence provided by the family, they either confirmed or disclaimed the right. A large number of pedigrees were collected.
The Visitations took place between 1530 and 1686, at roughly twenty or thirty year intervals. Other published Visitations for Cheshire exist for 1533, 1580, 1613, 1633.
From The Heraldic Visitation of Cheshire, 1580 :
Argent, on a cross flory between four martlets Gules, a martlet Or;
a canton Azure, charged with a crescent for difference, Gold.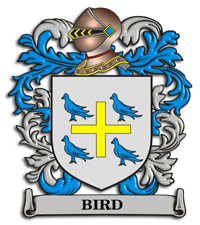 What the crest signifies
Argent (silver or white) : Peace and sincerity
Azure (blue) : Truth and loyalty
Canton : As in a flag borne at the top corner of the shield; reward from the sovereign for performance of eminent service
Crescent : One who has been honored by the sovereign; hope of greater glory (horns to the chief)
Cross flory (cross flowered at each end) : One who has conquered
Gold : Generosity and elevation of the mind
Gules (red) : Warrior or martyr; Military strength and magnanimity
Martlet (footless swallow) : Symbol of the fourth son (mark of difference); may signify one who has to subsist by virtue and merit, not inheritance
Copies of the text are illustrated below.